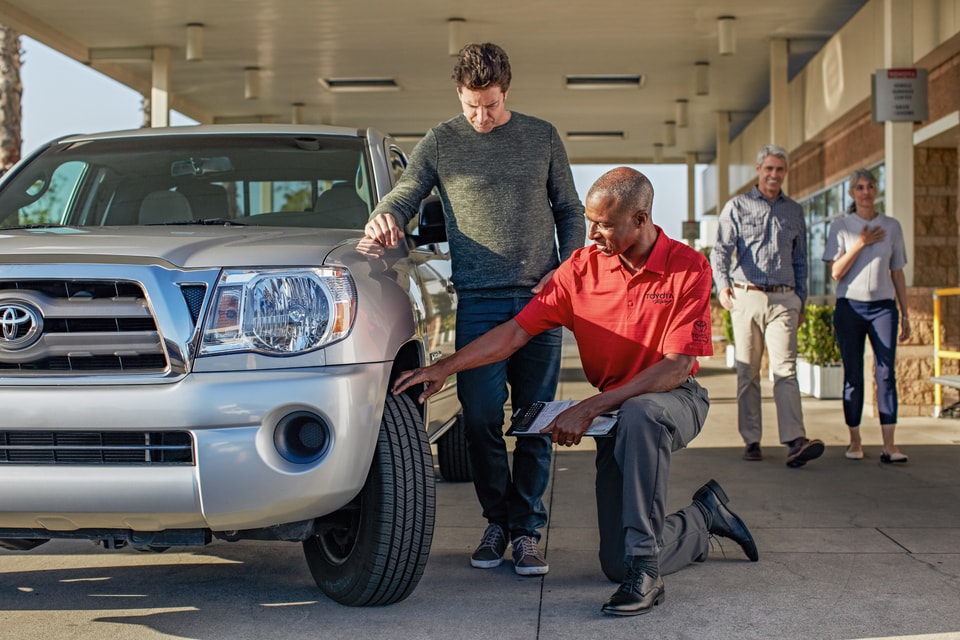 Service intervals: Key checkpoints for a healthier Toyota
Toyota cars, trucks and SUVs are consistently ranked among the most reliable vehicles on earth. To keep your Toyota performing at its best for you, it's important to schedule regular maintenance at New Holland Toyota in New Holland, PA. When you allow us to take care of vital factory-recommended services like an oil change and regular tire rotation, you lengthen the life of your Toyota. Here are examples of some significant service intervals.
At the first 5,000 miles or six months
Bringing your Toyota RAV4, Camry or Corolla to us for regular inspections allows us to keep an eye on your Toyota's wear-and-tear items, as well as your critical fluid levels like brake fluid and power steering fluid.
Check and top off fluid levels
Examine wiper blades
Rotate your tires
Inspect your brake pads and discs
Inspect your brake linings and drums
At 10,000 miles or 12 months
If your Toyota is almost brand-new, this might be the first time you give it an oil and filter change. In the past, Toyota recommended an oil change about every 3,000 to 5,000 miles. But with today's more advanced synthetic motor oils, your Toyota can go longer between oil changes as you drive around Lancaster and Reading PA.
Same services as the 5,000-mile checkpoint
Provide an engine oil and filter change
Replace your cabin air filter
At 15,000 miles or 18 months
The 15,000-mile mark is a more significant maintenance event that gives us a chance to examine a variety of important components on your Toyota 4Runner. When we can spot and fix trouble spots early, we help keep them from getting expensive for our customers from Ephrata and Lititz, PA.
Same services as the 5,000-mile checkpoint
Examine your ball joints and dust covers
Inspect your drive shaft boots
Inspect your exhaust pipes and mountings
Inspect your engine coolant
Inspect your steering gear
Inspect your radiator and condenser
Inspect your steering linkage and boots
Inspect your rear differential oil and transfer case oil
At 20,000 miles or 24 months
This is basically a repeat of the 10,000-mile service interval. It's another opportunity to flush out the old engine oil in your Toyota Tacoma, Tundra or Highlander and fill it with fresh new lubrication.
Same services as the 5,000-mile checkpoint
Engine oil and filter change
Replace your cabin air filter
At 25,000 miles or 30 months
This is the time for our customers in nearby Thorndale, PA to schedule the same services you received at the 5,000-mile checkpoint. It's the most basic level of factory-recommended maintenance for your Toyota Sienna or Prius.
At 30,000 miles or 36 months
This appointment includes the same services you received at the 15,000-mile maintenance stop and more, so it's a particularly significant service interval. Your Toyota Land Cruiser or Sequoia will benefit from fresh new engine oil, inspection of key functions and replacement of important components.
Same services as the 15-mile checkpoint
Replacement of your cabin's air filter
Replacement of your engine oil and filter
Inspection of your transmission
Inspection of your fuel lines
Schedule your next maintenance appointment today
As you know, your Toyota RAV4, Corolla or 4Runner is a precision machine that needs the high-quality care of regular maintenance and genuine Toyota parts. We can provide you with a more complete list of the service intervals your Toyota needs. Go online or call us and set up time for your next service appointment today at New Holland Toyota.